Travel broadens the mind, as the old saying goes. It also leads to unconventional restaurants. Let's meet two Vateliens, Tanguy Reymond and Jules Baralo, who founded Le Kaya Restaurant in Tignes.
Right at the bottom of the ski slopes, Le Kaya is the new place to be in Tignes.
an exceptional panoramic view,
gourmet cuisine inspired by trips its founders took,
a heated patio,
an art gallery,
a concept store,
a wine library and shop.
At the helm, two Tignards and Vateliens: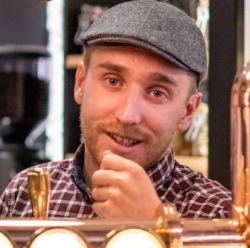 Class of 2018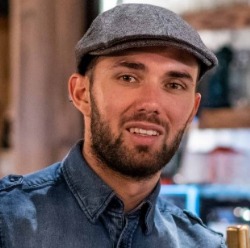 Class of 2015
What atmosphere were you trying to achieve here?
Tanguy: We both graduated from Vatel Lyon and both studied at Vatel Mauritius. Jules in his second year with the Marco Polo program and myself in my 5th Specialization year. And when you add our internships in the Seychelles, in India, in Thailand, in Ireland, in the States... it's easy to understand that our inspiration came from all over the world.
Jules: We were both lucky to have worked in a lot of inspirational and very demanding hotels. The idea was that each of us would take the best in each of them, so we could make Le Kaya a warm and unique hotel and concept.
So, what's so different at Le Kaya?
Tanguy: An art gallery, a concept store... Much more than a mere restaurant, Le Kaya is a place to live. Everything that's present in our hotel can be purchased: Staub cookware, that we serve several of our dishes in, mini-gardens in display domes made by Green Factory, plates from Falcon, etc.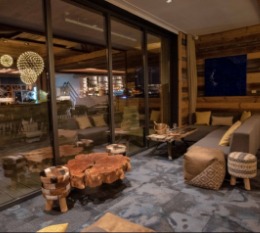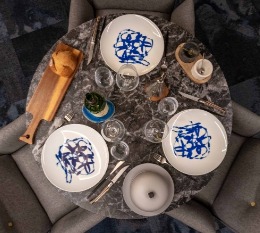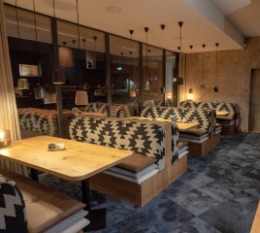 And the decoration?
Jules: It's all unique and authentic, like this huge granite table from the Alps that we got in a quarry on the Italian border and that perfectly matches our ideas of sharing, exchanging and culinary travels.
And here you can see this beautiful frame with wooden girders we recycled from an old farmhouse in the Tarentaise in French Savoy, granite and marble from the Alps and iron that portrays the mountains in Tignes, decorating an entire wall in our restaurant.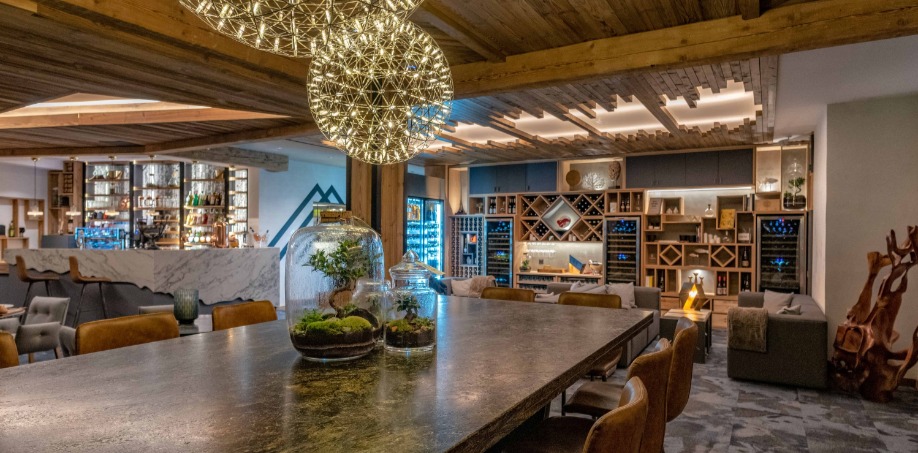 On their opening day, Jules and Tanguy were surrounded by six Vateliens or students who came to welcome them: